Your wedding will be like no other day in your life. Unless you're eloping or having a very small wedding with only a few special guests, it's likely you'll be surrounded by people from the moment you open your eyes until long into the night. For this reason, planning a "first look" on your wedding day could give you a small window of opportunity to just "be" with your partner, with only your photographer around, or to stop for a few moments, on your way down the aisle, in order to lock eyes with the one you love.
Meeting privately
While many couples choose not to see their partner until the actual ceremony, some may decide to have their "first look" in private, possibly nearby the ceremony location.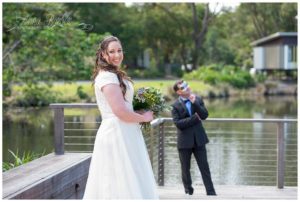 When you consider the often hectic lead up to any wedding, having 5 or 10 minutes private time together can really help to calm you both and give you some awesome extra photo opportunities as well.
Pausing while walking down the aisle
The other option is for one party to pause, just for a few moments, as they walk down the aisle. For this to really be a surprise, once the Celebrant knows the bride/groom has arrived, she would normally ask the other bride/groom to stand with their back turned until the Celebrant lets him/her know it's the "perfect" time to turn around.
Giving your photographer/s notice that this is what you plan to do enables them to be in position ready to capture the groom/bride's face as they first set eyes on their partner on their wedding day. After this, the photographer/s can then turn their attention to the other groom/bride ready to capture their reaction.
~     ~     ~     ~     ~
Either method works beautifully and is a very intimate moment by which each couple can remember their special day.
If you'd like further information on planning a "first look" on your wedding day, please just ask! I'm always happy to help.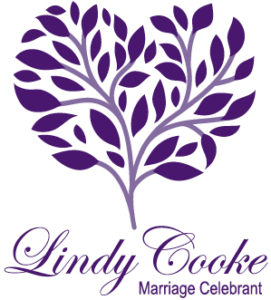 047 ~ 31/01/2018
© Lindy Cooke Celebrant
I married this gorgeous couple at Elements of Byron in August 2017. They both have a great love of birds. In fact the bride is a zoo keeper and the groom is a nature and adventure guide. You didn't have to look far to see lots of bird inspo on their wedding day (the ceremony was held by the duck pond, the signing chairs were peacock chairs, a fabulous barn owl delivered the rings, there were references to birds in the vows and signage at the reception etc.) So, it wasn't too far a stretch for the groom to surprise his bride before the ceremony by turning around whilst wearing a bird mask. I absolutely loved it!
Photo credit: Anna Barber Photographics
http://annabarberphotographics.com.au/
https://www.facebook.com/annabarberphotographics/
M:  0432 976-917