5 years in review
A lot has happened since I first qualified as a celebrant back in 2013. Since completing Certificate IV in Celebrancy and being registered as an authorised Marriage Celebrant with the Attorney-General's Dept., one of the first things I did was to develop a Vision and a Mission Statement. After this I wrote a short-term (1 year) and longer term (5 year) marketing plan as the basis for moving forward.
My business, like any healthy business, has continued to change and grow over the years. Changes to the law, my experience in both writing and delivering bespoke ceremonies and the constant search for new material to add to my resource library have all been considerations.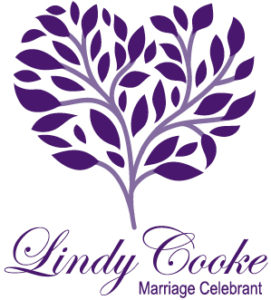 My logo has also evolved and I and am thrilled with my current branding. Purple continues to be the colour associated with my business and the fonts used for the words  "Lindy Cooke" and "Marriage Celebrant" remain unchanged so there is a link between where my business started and where it is going now. The image in my logo now depicts a tree, in a heart shape, with differing shapes and sizes of leaves. Each leaf features one shade of purple, with another being used for the branches. These images link back to the tree of life, the one person responsible for my business and the many and varied ceremonies which I am asked to perform. My motto is "Ceremonies that speak from the heart" which ties in beautifully with the image and my work as a celebrant.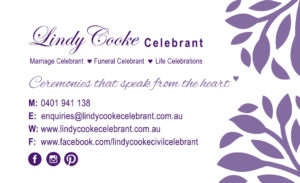 In addition, an increasing focus on social media marketing has meant that I now publish a monthly blog on my website as a way to engage with readers and to inform/guide them on a wide variety of subjects. To date, I have written 57 blog posts on such varied topics as:
♥  How do I find the right celebrant for me?
♥  Registering your marriage
♥  Planning a long distance marriage
♥  Do we need a wedding rehearsal?
♥  What documents do we need to get married?
♥  Applying for  "shortening of time" to get married
♥  Payment plan when booking me as your celebrant
♥  Can I have a surprise wedding?
♥  Celebrant vs Court House
♥  What exactly is a Baby Naming? etc. etc.
You can check out all the subjects I've written about by clicking on the topics listed under "Featured Posts" and "Other Posts" on my Blog page.
I am also active on platforms such  as Facebook, Instagram and, to a lesser extent, Pinterest and LinkedIn.
As well as really listening to those who book my services and designing a ceremony that reflects their wishes, it was important to me that I develop a comprehensive library of resources to meet an ever-growing list of requirements. Finding the right words to suit a particular situation is key to writing any ceremony and, I often find, a combination of my own and those of others via special readings, is the perfect balance.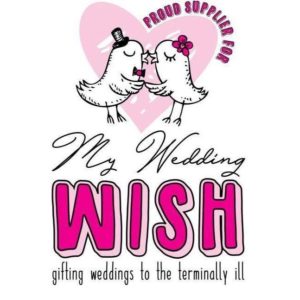 In 2017 I also became a supplier to an amazing organisation called My Wedding Wish. My Wedding Wish grew from being a local cause to a national charity in 2016 and, in 2017, it was rolled out across Australia. It's a beautiful way to help make a dream wedding come true for couples living in Australia with a terminal illness.
Future Plans
There is only one person in my business model so I have to be multi-skilled. I'm the authorised marriage celebrant, receptionist, administration officer, advertising representative, marketing manager, roadie, as well as the person who attends all meetings, rehearsals and ceremonies.
While those roles won't, in essence, change, the amount of time spent on each area will. With in excess of 5 years under my belt, I am now in a good position to analyse opportunities and act on them when they are a good fit for my business, all the while looking to maintain a healthy work/life balance.
Importantly, I plan to continue to expand my resource library so that I have even more information and options available for inclusion in my ceremonies. This requires me to actively search and present new ideas which has the added benefit of keeping my material and my ceremonies fresh.
I have attended many wedding expos over the years and plan to continue marketing my services, to some extent, in this way. Here, I believe, quality is more important that quantity so it will be more a case of exhibiting where I feel there is adequate marketing of the event to warrant the time and energy involved.
A new 1 and 5 year Marketing Plan is currently being developed. For any business to succeed, I believe it's important to not become complacent and to review and refresh as needed. As such, I will continue to monitor the wedding industry in particular and strive to always meet the needs of my clients in general.
Being a sole trader, networking with other celebrants has always been important to me and will remain a focus for my business over the coming years. As many people already know, I am always up for coffee or lunch! If we're honest, we never stop learning. While I meet many people in the course of my work, catching up in person or via online group chats with other celebrants is an essential part of the learning process. I don't see others as being competitors; more as people on their own journey. If we are willing to share resources and experiences, then we all win in some way.
As well as my annual obligation to complete Ongoing Professional Development training in order to retain my registration as an authorised marriage celebrant, I will continue to tap into other training offered in the local area which is a good fit for my business. Particular areas of interest at the moment are the funeral industry and social media marketing.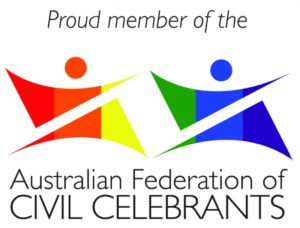 My membership of The Australian Federation of Civil Celebrants will be ongoing. This connects me with the largest national association of professional celebrants in Australia (almost 2,000 members at  the time of writing.)
I am looking forward to meeting many more new people over the coming years, to providing a service which not only meets but exceeds their expectations and to building on the friendships already created.
Your feedback is important to me. After I have delivered your ceremony, I encourage you to leave your comments by clicking on "Review" on my Facebook page or, if you're not on Facebook, by emailing your feedback to me. It is only by listening and learning that I will continue to provide a professional service to those who book my services as a celebrant.
Thank you
Lastly, I would like to thank the many people with whom I have come into contact in the course of running my business over the past 5+ years. I have been privileged to design and deliver many wedding, naming day, renewal of vows and commitment ceremonies as well as funeral and memorial services on behalf of family members.
To all those who have written reviews, shared photos from their ceremonies and "Liked" my posts, thank you from the bottom of my heart! Your support means so much on both a personal and professional level. Here's to the future!
057 ~ 30/12/2018
© Lindy Cooke Celebrant