What is a "simple" wedding?
Couples booking me as their celebrant will often say they want to have a "simple" wedding ceremony. When I first heard this, I was a bit perplexed; then I realised what most actually want is a ceremony that's not too long, definitely not boring, and one which encompasses the special people and things that are meaningful to them.
Choosing your celebrant
When choosing your celebrant, it's important to consider whether:
♥  they'll really listen to you and not try to pressure you into doing handstands if you're really wanting to include a handfasting;
♥  they'll take the time to get to know your story and then gather the special parts, the fun parts, the relevant parts, so they can talk a bit about your love story and set the scene before moving onto the legal elements;
♥  they'll work to a timeline that allows you options and plenty of space to consider things like writing your vows, choosing your ceremony songs etc. without leaving things to the last minute; and, lastly,
♥  whether they'll deliver the ceremony you've always hoped for in such a way that you, and your family and friends, can relax and enjoy the celebration from start to finish.
Keeping it simple really means keeping it real … and that's what I love to do. It means my job never gets boring and the ceremony I design for each couple will be about them and not just a cut and paste with the names changed.
What's next?
The best way to see how other couples I've married felt in the lead up to and on their wedding day is to check out my Reviews page. The feedback there is genuine, consistent and heartfelt. Here's the link to take you there:  https://lindycookecelebrant.com.au/reviews-2/
If you're looking for a celebrant for your special day, then I'd love to chat with you. You'll find further information, and an insight into the passion I have for my work:
♥  here on my website
♥  on my business Facebook page https://www.facebook.com/lindycookecivilcelebrant/
♥  and on my Instagram https://instagram.com/lindycookecelebrant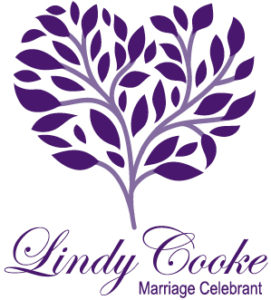 057 ~ 30/11/2018
© Lindy Cooke Celebrant