Building a relationship with your celebrant
I've always felt that building a relationship with your celebrant is different from that of any other wedding supplier. The service I provide is something that builds over time as opposed to creating an amazing bridal look with hair and makeup or delivering something beautiful like flowers or a special cake on the day itself. There are several unique factors involved for me which include, but are not limited to:
Meeting face-to-face
Where possible, I always meet with my couples two or three times before their ceremony. This typically involves two meetings in my home office (usually around 2 hours each but it's not unusual for them to go for longer) as well as a rehearsal before the actually wedding itself. It means we connect in a comfortable and quiet space without worrying about being overheard discussing personal information, say, in a cafe situation and build on the rapport established from the first contact.
Video chats
If a couple live interstate or overseas, or if their work precludes them from meeting me in person, I always encourage one or more video chats so we can connect that way. Picking up on facial expressions and other body language and watching how a couple interacts with each other and responds to questions goes a long way to helping me design their ceremony.
Emails
While I use Facebook Messenger and Instagram to connect with couples, my first choice would be to communicate via email. This is because I create separate folders for each couple which allow me to manage all the incoming and outgoing messages for them in the one place. It means I (and they) can instantly see where we are up to in the process and what information is yet to be provided. Emails, of course, can be sent at any time of the day so couples can write to me at a time convenient to them and I can then respond at the first opportunity. This helps to keep a smooth flow or information between us.
Building the trust
More than anything, building trust with my couples is key. I like to feel that they are comfortable with my style and are willing to dig deep and share from the heart. Most of them have already done their research and have either sought my services after chatting with friends and receiving their feedback, being referred to me by other suppliers or from looking at my website or Facebook page or reading my Reviews.
Keep in mind
Importantly, all the other things that go to make up a great wedding can be there for any other event. These include your photographer, a special event cake, a dress, flowers, styling and a co-ordinator … the list goes on.
Julia Child is quoted as saying "A party without cake is just a meeting" but, don't forget, a wedding without a celebrant is just one big, fabulous party !!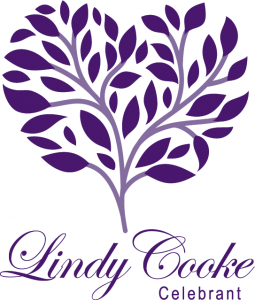 30/11/2021
086 ~ © Lindy Cooke Celebrant