How can others be involved in the actual delivery of your wedding ceremony?
If you're considering having a close friend or family member take on the role of co-presenting a wedding ceremony, there are a few things to keep in mind. Under The Marriage Act 1961, an authorised Marriage Celebrant is required to take care of all the legalities so, someone who has done the relevant study but who is not yet registered, will require support.
If this sounds like a potential option for you, I'm more than happy to:
♥ Explain all the legal elements about marrying in Australia and sight the required legal documents. These include original birth certificates/photo ID or passports (and cessation of a prior marriage if relevant).
♥ Supply the legal paperwork required as well as complete and witness your signatures on all marriage documents. These include your Notice of Intended Marriage, Declaration of No Legal Impediment to Marriage and your three Certificates of Marriage.
♥  Welcome your friend or family member to our meetings so that we can discuss your ceremony in more detail.
♥  Assist your friend or family member by supplying the framework (kind of like a running sheet) for each section of your ceremony. In this way, they'll have a guide for how it should all flow in a meaningful way. I'll also include all the required legal elements.
♥  Liaise with your friend or family member if they require guidance when writing your ceremony.
♥  Attend your wedding rehearsal and offer any guidance you or your friend or family member require.
♥ Take on the role of authorised marriage celebrant on the day of your wedding. This includes such legal requirements as:
(i) introducing myself as such to family and friends at the start of the ceremony;
(ii) stating the Monitum (this is an important part of the legal wording that must be said);
(iii) handing over to the person co-presenting;
(iv) verifying that the legal vows are stated correctly (or taking an active role in this if you prefer);
(v) being able to intervene (only if necessary) during the ceremony; and
(vi) witnessing all signatures on the Certificates of Marriage. Other than these requirements, the co-presenter can deliver the rest of the ceremony, including declaring you to be husband and wife.
♥ Lodge your paperwork with Births Deaths & Marriages within the required minimum two weeks of your marriage, together with an online form. I'll then keep you informed about the registration of your marriage.
♥  Order a standard and/or commemorative Certificate of Marriage on your behalf if required.
Other Considerations
I will also:
♥ Forward information regarding my wedding packages after your initial enquiry.
♥ Issue you with a statement of fees and follow up with a receipt each time a payment is made.
♥ Supply you with a copy of my comprehensive resource folder containing lots of useful information.
♥  Provide options for incorporating extra layers in your ceremony.
♥ Bring my quality PA system with wireless mic to your ceremony. Family and friends will not only be able to hear everything that's being said but you can also play your ceremony songs through it as well.
♥  Provide copyright protection for any readings or music played during the ceremony.
♥ Supply details regarding my public liability insurance in the event of an incident during your ceremony.
♥  Act as your backup option in case of accident/illness on the part of your co-presenter.
♥ As well as at our scheduled meetings, be available via phone, email or Facebook to answer any queries you may have.
My fee
When co-presenting a wedding ceremony with me, I charge my usual fee for both my "Elopement" and my "Love Is In the Air" wedding package. As you can see from the above, there are quite a few requirements in order for things to run seamlessly on the day and for your marriage to be legal.
While your friend or family member may be able to write an introduction to your ceremony, they do not come with the experience or legal qualifications I have. I will still need to liaise with either you or them on a regular basis. In many cases, the work is much more than it would have been had I delivered the ceremony myself.
The important thing to remember is that I'm signing off on all the legal things and will be on hand to assist every step of the way.
If you'd like to chat about having a co-presenter work with me at your ceremony, please feel free to get in touch. You'll find all my contact details here.
Further information
If you'd like further information on co-presenting a wedding ceremony, section 5.4 of The Guidelines on the Marriage Act 1961 details the minimum role an authorised celebrant must play for a marriage to be considered legal in Australia.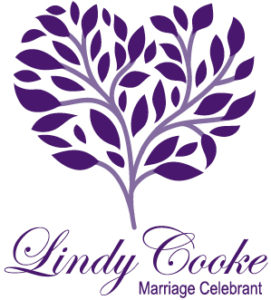 060 ~ 31/03/2019
© Lindy Cooke Celebrant