For some couples, including their fur babies in their special day is an absolute must. Leaving their "baby" at home would, for them, be like not inviting their best friend to be part of the biggest day in their lives. So, if you're interested in creating animal magic on your wedding day, please read on …

Family photos
Don't forget to include your fur baby in some of your precious photos. This could be done as part of your engagement shoot or before, during or after your ceremony. They will add a beautiful extra element to your memories.
Walking you down the aisle
Your fur baby could walk the bride and/or groom down the aisle and either stay with you or take a seat with close family or friends. They could perhaps wear a cute bow tie, a neck scarf, a tulle skirt or even a tuxedo (depending on how hot a day it will be.) They would also look super cute wearing a lightweight sign saying something like "I loved her first" together with a paw print or, perhaps, "At last!"
Ring bearer
If your fur baby will be watching the ceremony seated alongside family and friends, perhaps you could consider asking someone to bring them forward at the appropriate time to deliver your rings. You could place them in a little bag and tie this safely onto their collar or something else they're wearing.
Special reading
I have a few beautiful readings about animals which would be perfect for someone to read out as part of your ceremony. I'd be happy to share these with you to see if one is a perfect fit.
Wedding cake
You might like to consider a cake topper incorporating you and your partner plus your fur baby. If you supply a photograph to David's Clay Figurines (based in Adelaide S.A.), he will be able to sculpt a beautiful cake topper for your special day. David can be contacted via the links below. You can see further examples of his work on his Facebook page too.
The important things to consider are …
♥  Check to see if pets are allowed at your venue. If so, why not consider taking them there before your big day so they can familiarise themselves with the location?
♥  Consider your pet's personality. Are they boisterous and therefore a risk around the elderly or young children? Will they be comfortable around other people, particularly strangers? If they're used to mixing with others at social gatherings, that should give you an indication as to how they'll behave.
My suggestion would be to ask someone you know, ahead of time, to take on the responsibility of being your "pet sitter" during the ceremony. This person could bring your pet to the ceremony and take them home afterwards, leaving them with a special treat to keep them occupied while you're away.
♥  Make sure you provide the person looking after your pet with a water bowl to take in their car as well as some little treats to be handed out if required (not to mention a plastic bag to tidy up any messes!)
♥  Creating animal magic on your wedding day will give you a lifetime of wonderful memories so, if it's important to you, try not to miss out on the opportunity.
Photo credits:
#1 – Anna Barber Photographics,  http://annabarberphotographics.com.au/
M:  0432 976-917
#2 – David's Clay Figurines, https://www.facebook.com/davidsclayfigurines/
M:  0433 736-396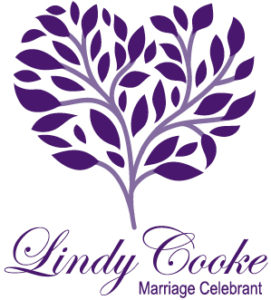 051 – 30/06/2018
© Lindy Cooke Celebrant