As we all know, even the best laid plans can go awry. When you think of all the little details that go into preparing for your wedding day, it makes perfect sense to have an emergency wedding kit on hand in case something unexpected happens. Here's what I suggest you include in your:
Emergency wedding kit
♥  Bottled water.
♥  Invisible thread (this will blend in with any colour), pins and a couple of needles (make sure the "eye" of the needle is a fairly good size.)
♥  Hairspray, comb and bobby pins.
♥  Deodorant, body spray and breath freshener.
♥  Makeup kit including lipstick, lip gloss, clear nail polish and tissues.
♥  Pain killers.
♥  Spare heel stoppers if you're wearing high heels (unless they're a snug fit, they can come off and get lost.)
♥  Something to distract any little ones such as picture books, colouring in pencils and paper, their favourite toy etc.
♥  Lastly, your celebrant's mobile phone number in case you need to advise them of any major and unexpected delays.
Wedding day schedule
I also suggest you type up a schedule for your wedding day. This should include everything from the moment you get up in the morning until you and your partner leave your reception. Things to consider include:
♥  Having breakfast, lunch and snacks. (I've had two people in a bridal party faint during the one ceremony and, when asked, mentioned they hadn't had lunch. The ceremony naturally had to stop and the venue operator called for an ambulance … not really what the bride and groom had planned!)
♥  Hair and makeup.
♥  Getting dressed (if your dress has a lace-up back, you'll need to allocate more time for this.)
♥  Pre-wedding photos.
♥  Travel time (it may be worthwhile driving the same route at the same time of day to gauge how long this will take.)
♥  A little extra time for unexpected contingencies.
♥  The wedding ceremony.
♥  Congratulations and post ceremony photos.
♥  Reception including arrival, meal, speeches, cake cutting, dancing and departure.
The aim is to plan your arrival at your ceremony venue on time or within 5 or so minutes of your advertised start time. Family and friends and, importantly, your partner will be there to welcome you. I always tell couples that your guests have been invited to your wedding, not to a barbecue, and for the most part will arrive up to half an hour early so they have an opportunity to mingle before the ceremony begins. Once the bridal party arrives, it's all about the love you and your partner share!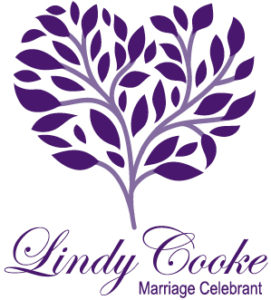 #055 ~  30/09/2018
© Lindy Cooke Celebrant