When exchanging vows during your wedding ceremony, most couples opt to include two kinds … their legal vows (which must be said by both parties), followed by their personal vows.
♥  Legal vows
For a marriage to be considered legal in Australia, one of the things each couple must do is state the following minimum words, taken from subsection 45(2) of the Marriage Act 1961, during their wedding ceremony:
"I call upon the persons here present to witness that I (insert name of Party 1 – in full if not mentioned in full elsewhere) take thee (insert name of Party 2 – in full if not mentioned in full elsewhere) to be my lawful wedded (insert "husband", "wife" or "spouse".)
Section 5.7.7 on page 70 of the Guidelines on the Marriage Act includes the substitution of limited words in the vows which still allow a marriage to be considered legal, specifically:
"husband" or "wife" or "spouse"' may be changed to "partner in marriage"
"call upon" may be changed to "ask"
"persons" may be changed to "people"
"thee" may be changed to "you"
"persons" here present" may be changed to "everyone here" or "everybody here" or "everyone
present here" or "everybody present here", or
the couple may leave out either "lawful" or "wedded", but not both.
♥  Personal vows

While including personal vows at this point in the ceremony is optional, most people choose to add their own. If this is the case, I always encourage couples to keep their vows "secret" from each other as this is an extra special moment in the ceremony for them.
Most of us are not accustomed to making impromptu promises like these without careful thought beforehand so I recommend couples write something ahead of time. This is because:
some people get quite emotional on the day and would be unable to deliver their promises with any clarity if they felt there was an added pressure to speak in an impromptu way;
by writing their vows ahead of time when they are relaxed and thinking clearly, each person knows that what they really want to say on the day will be expressed and they won't have to rely on their memory or being creative at such a significant time in the ceremony;
each person has time to include a combination of traditional, romantic or, perhaps, funny elements if they wish;
the words are always a beautiful surprise for their partner; and
by sending me the vows ahead of time, I'm able to type up a vow card for each person to read from which then becomes a beautiful keepsake from the day (without this, particularly if your ceremony is not videoed, you wouldn't have a record of what you promised to each other.)
If you need any help writing your personal vows, please feel free to ask. I can give you some starting phrases to which you can add your personal touch. If writing your personal vows is not an option, I include sample vows in the resource folder I lend to each couple and you're welcome to use one of these, or a combination of phrases from a number of these, in your ceremony.
If you'd like me to read through what you send to me and let you know if the words flow or if, perhaps, a minor change here and there will help the meaning, that's not a problem. This is not to change the sentiment but allows you to have another pair of eyes to read over what you've written and hopefully give you peace of mind.
I usually find, once it's quiet and you're in a comfortable place, the words will start to flow. If you think about the things you love about your partner, what your hopes are for your future life together and how much your partner means to you, you will hopefully have all the ingredients for writing beautiful words from the heart.
To read further information on writing and exchanging your vows, head over to my earlier Blog post called "A Promise Is a Promise".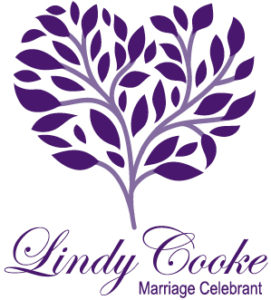 070 ~ 31/01/2020
© Lindy Cooke Celebrant