Wedding day jitters
Your wedding day should be one of the happiest days of your life. As we all know, whether there is a long or short time leading up to this special day, it inevitably comes with lots of things to consider. Having a fear of public speaking should not be one though!
Your celebrant is key
Keep in mind that, during your ceremony, your celebrant will be doing most of the talking. They're professionals and know how to set the tone for your wedding day.
I like to start my wedding ceremonies by giving couples a moment to hold hands, say a few words to each other and just catch their breath. I then indicate for the music to be faded out before I start the personal introduction to the ceremony. This is a time for the couple to simply look at each other and not have to do anything other than just be there. Whispering to one another always seems to settle the nerves too!
After the introduction, the couple may have chosen someone to do a reading. From there, we move onto the legal aspects of the ceremony. The only thing a couple must say during the ceremony is their legal vows which amount to 4 short lines.
In saying that, most couples decide to add personal vows after this. Honestly, it's one of my favourite parts of every ceremony. The best thing about saying your vows is there's nothing to remember! I print your vows on card so you have the bonus of having a beautiful keepsake to treasure after the ceremony too. You won't have to think about what you'd like to say. You will already have written the words and had the time to get them just right. While saying personal vows is optional, I encourage couples to definitely consider including them. You can make them as long or as short as you like and I have never heard any that weren't perfect!
Your celebrant will actually be the one doing most of the talking so trust them to get that part right. I suggest you don't look on your part in the ceremony in the same way though. You're not making a speech; you're actually making promises to the one you love in a very quiet and thoughtful way. You'll be facing each other for this part of the ceremony and it's likely you'll be holding each other's hand so I can almost guarantee that your partner, and not family and friends, will be on your mind.
Tips & tricks
Here are some of my top tips for you to consider:
♥  I would encourage you to have a wedding rehearsal in the lead up to your big day. It's a great opportunity for your celebrant to step you through the key parts of your ceremony and put your mind at rest. I always chat about where everyone should stand, check the music works through my PA and ask couples to sign the Declaration of No Legal Impediment to Marriage that I've prepared for you. You'll find further info on this document here. If you have any questions, you can definitely ask them at the rehearsal so that you have a clear idea about what will happen on the actual day.
♥  Don't leave writing your vows until the last week. If I've not received them by the 8 week mark, I follow up with you then so I can finalise your ceremony and send through your draft at the 4 week mark. (Note: "secret" vows are not included in the draft.) If you allocate some time at least a couple of months out to sit down quietly and think about what your partner means to you, you can write down some thoughts and then tweak them until you're happy with the words you've written. In this way, they'll resonate with everyone who hears them, especially your partner! There is no right or wrong length either. If you need any help or even some ideas for starting the thought process, just let me know.
♥  Your vows can be romantic, quirky, funny or a combination of many things. As long as they reflect your feelings, you will have captured your thoughts beautifully. If you're looking for a bit of light and shade, and maybe some humour, you might even like to mention something like an annoying habit that you or your partner has. Laughter can often relieve tension you know!
♥  You'll find further info on writing your vows here.
♥  Before you read your vows, look into your partner's eyes, hold their hand and take a deep breath. Pause when reading if you need to as well.
♥  Stay sober (a beer or glass of something before the ceremony is OK though.) You'll want to have a clear head and you don't want your celebrant saying your ceremony can't go ahead because you're intoxicated!
♥  I always have some "Rescue Remedy" jubes in my bag of tricks and you're welcome to have a couple if you like. They're great for relieving anxiety.
♥  Plan to arrive 20-30 mins before your ceremony start time so there's no chance of running late. You can mingle with family and friends, enjoy a few laughs and have some photos taken. Don't forget, I'll be there to support you. Plus, if you have a Best Man or Maid of Honour, it's part of their job to be your wing man/woman on the day!
♥  Just remember that your family and friends are all there to support you as well. I know from experience that they will totally understand any emotion you show, whether it be laughter, tears or even a trembling voice. They really do wish you well as you start this next chapter in your life. The party will be starting in about 30 mins and you can really relax with your partner by your side then!
♥  Finally, if something's important, everyone understands that it means a lot to you. So, go with the flow and don't be too hard on yourself! It will all be OK.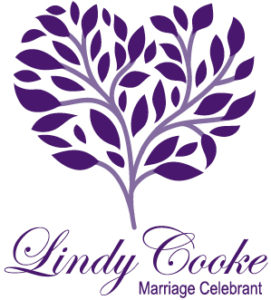 #054 ~ 31/08/2018
© Lindy Cooke Celebrant