When it's the height of summer or, perhaps, the temperature is unseasonably high at another time of year, it's worthwhile coming up with some hot  wedding day ideas to keep everyone cool, calm and collected. Here's my list of what to consider:
Water
Providing bottles of cold water for family and friends before and after the ceremony is a great way to keep them hydrated. This is particularly important for the elderly and very young who may struggle to regulate their temperature. Simply add some ice to a few large plastic tubs, fill with bottled water and allocate someone to offer them to all your guests.
Don't forget, too, that it's important for the bridal party to eat, and drink lots of fluids before the ceremony. I've had a couple of people faint during the one ceremony because, with all the preparations they were involved in, they simply "forgot" to do so.
Shade
Natural shade from trees or a marquee will provide some relief for your guests but don't just rely on this. You could also supply umbrellas for the ceremony itself. When you consider that many guests arrive 30 mins early for the ceremony and it's not uncommon for brides to be 10 or more minutes late, heatstroke is a real concern on hot days.
Time of Day
Consider the time of day when scheduling your ceremony and reception, particularly if you're planning a beach or outdoor wedding. The glare from the sand and water as well as the wind can make it difficult to cope for some people.
Air Conditioning
Make sure your venue turns the air conditioning BEFORE everyone arrives so that the room is cool. Once everyone is inside, things will warm up, particularly when they're on the dance floor!
Plan Ahead
Knowing that you've arranged each element of your day will help you relax and keep your cool on your wedding day too. Yes, unexpected things may happen but you can either handle them yourself or have a wedding planner on hand to take on this responsibility. The important thing is to consider these hot wedding day ideas, then relax and enjoy the best day of your life!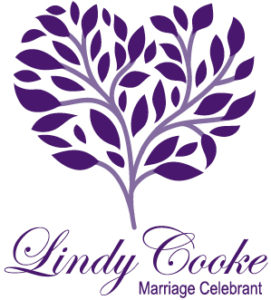 050 ~ 29/04/2018
© Lindy Cooke Celebrant