A successful event requires planning and, often, the contribution of a team of professionals. The following positive outcomes are likely when you consider the:
Benefits of networking with other wedding suppliers
What can be done in an emergency
Celebrants are professionals but they, too, have personal lives. If we should become ill at the eleventh hour, if there's a death in the family, or a flood or fire and we just can't get through to the ceremony location, we'll do our best to find someone qualified to step into our shoes. This requires us to transfer the  Notice of Intended Marriage lodged with us to the new celebrant, as well as all relevant details and the pre-approved ceremony script.
Keep in mind, if this occurs, your new celebrant also has a legal obligation to sight your personal documents before they will be able to marry you. These include your evidence of date and place of birth and also your identity. If you have been married before, you'll also need to show them how your most recent marriage ended.
Since becoming a celebrant in 2013, I have never not been able to fulfil my role as a celebrant. I have however been asked to step in for another celebrant who was unable to travel at the time of the wedding she had been booked for. I consider networking with other wedding suppliers is really important and, as such, have a large group of celebrant friends and colleagues I could call on in an emergency.
Word of mouth recommendations
Over the years, networking with other wedding suppliers at events such as weddings and bridal expos has enabled me to meet a wide range of people. I also hear feedback from couples and others in the industry. If you're looking for fireworks, if you'd like the names of people you can trust to take your precious photos (without being precious themselves!), if you'd like to find a makeup artist who is experienced in working with all skin types, or you'd just like someone to answer your enquiry rather than have it go into the "big black hole", then it's likely I'll be able to refer you to someone who'll look after you beautifully.
Google is a wonderful resource but genuine feedback comes from personal experience. Once you have a shortlist of suppliers, I recommend you check out their website, Facebook and Instagram pages. This will give you a feel for their style. From there, you could either phone or email your requirements. How quickly they respond and the content of their reply will add another layer to what you already know about them.
Don't underestimate the value of genuine reviews on their pages too. These will give you a really good idea about how others felt when working with them. To check out some of the reviews I've received, head over here.
Relationships are important
For me, the feeling I get when I connect with someone is a key factor when designing a ceremony script. There are so many different personalities in this world and I love the diversity we can all tap into. While there are other things to consider such as price, availability and style, when you feel comfortable with someone and they are truly listening to you, the magic happens.
Further information
For further information on the services I provide, click here.
You can also take a look at some of my earlier blog posts here. If you have a question, it's likely I've covered it in one of those. If not, please just ask! I'm always happy to help.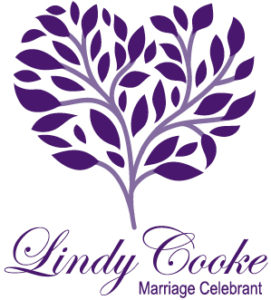 063 ~ 30/06/2019
© Lindy Cooke Celebrant