The secret to planning a wedding day that flows seamlessly
What, do you think, is the secret to planning a wedding day that flows seamlessly? You may be looking forward to a big celebration with lots of family and friends but, equally, you may be arranging a micro wedding or intimate elopement. Often you'll find that the more guests you have, the more there is to consider. Either way, it makes sense to plan beforehand.
Picture the scene
If you can, picture in your mind's eye how you'd like everything to unfold on the day. Planning is key to think about each step from the moment you wake up until the moment you farewell your guests. If you have a mental picture of how each element will look and feel, you'll have a great foundation to work with.
Wedding planner book
From there, you may like to purchase a wedding planner book. This is where you can make a note of all your appointments with wedding suppliers, all your contact details, include samples of fabric etc. It's kind of like a vision board but more in depth. It will give you inspiration, be somewhere you can have everything in the one place, and keep you focused in the weeks and months leading up to your wedding day.
You can jot down song ideas, organise your seating chart, work out the wording for your invitations and countless other things as well. When you get inspiration, see a quote that you might like to include in your vows, find some hairstyles you love or the perfect shoe online, this is the place to write down the details.
Choosing your celebrant
Your celebrant is likely to have been part of dozens, if not hundreds of weddings so will have been on this journey with many different couples. While their responsibility is to perform the ceremony, taking into account all the required legal elements, it's likely they'll have built up an amazing network of wedding suppliers over the years too. Their guidance is invaluable as they can offer referrals to other like-minded professionals in the wedding industry. They'll know if someone is reliable and takes care of their clients so you won't need to make a costly mistake hiring the wrong person.
Have you always wanted to arrive in a helicopter? Did you want fireworks when you leave your reception? Are you having trouble choosing a professional photographer? What about venues? Should you arrive a bit late? How much is too late? Can you add a symbolic ritual within your ceremony to acknowledge one or more special people in your lives? The list goes on.
Your celebrant is there to guide you along the way with lots of helpful ideas, contacts and, in many cases, will come with lots of life experience. They are the calming voice amongst all the noise. If you keep the lines of communication open, you'll know that all those little details you discussed are part of your big day.
How do I find the right celebrant for me? is an earlier blog post I did on this subject. It will give you some great information before making this important decision.
Rehearsal
Most celebrants will offer a rehearsal in the lead up to your wedding day too. Often this is scheduled for the day before when other members of your bridal party are in town, or it could be a week or two beforehand. Checking that your music works through their PA, going through the key elements of the ceremony and practising walking down and back up the aisle to your music will help to allay any concerns you may have.
Hire a wedding planner
Most of us lead busy lives. If your budget allows and you're happy to hand over the reins to a professional, then you might like to hire a wedding planner. They will listen to your vision, offer advice if needed, be available to attend meetings with you and other suppliers and then put your dream wedding day into motion. Having someone who knows your vision and will be there to help implement it will be a huge weight off your mind. On the day, they will be there to support you, keep you on track with your schedule and attend to any little details that arise.
Here are a couple of options for wedding planners I've worked with in the Northern Rivers area of NSW:
Rebecca at https://tweedvalleyevents.com/
Renee at https://www.helpmehitch.com.au/
Be kind to yourself
In the lead up to your wedding, make sure you take some time out for you. Having a massage, enjoying your hen's night, treating yourself to a day spa with some close friends are examples of things that are fun and designed to relax you. If you're sticking to a tight budget, you could consider something like an evening of Netflix with your friends, a relaxing bubble bath or a long walk with your partner along the beach.
Have your "A team" on board
It's a wise idea to choose one person or a small group of trusted people to be your sounding board. You don't have to go with all of their ideas but it's likely they'll have some valuable input. Remember, the more people you involve, the more advice you'll receive. Keep some surprises up your sleeve. Your guests will love it!
What happens if something unplanned occurs
How you respond to things will determine how you and those around you feel. A positive attitude will help enormously. Often, those unplanned moments make for the best memories and amazing photo opportunities. If you can go with the flow, you'll have achieved a wedding day that flows seamlessly!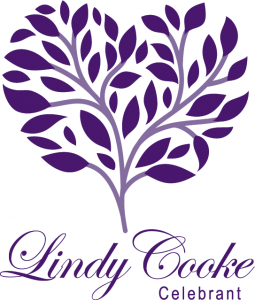 28/02/2021
080 ~ © Lindy Cooke Celebrant