Planning
If you've been feeling a bit flat and have stopped planning for your wedding during lockdown, now's the time to get inspired once more!
Weddings, in LGAs that are not "of concern" in NSW, will be possible again from 12.01am on Friday 3.9.21. They can take place with up to 5 guests (including children) in addition to the couple and those helping with the ceremony (such as the celebrant.) At the moment, travel is restricted to within your own LGA or 5km outside your own LGA, so weddings that are further afield are still on our wish list.
If you're keen to tie the knot and you live in my local area, you can (if you wish) create a a scaled-down version of your guest list and then (potentially) invite family and friends to a larger celebration once restrictions ease in future.
For some, restricting numbers has been a plus as it's allowed them to re-direct what would have been their wedding budget into other things, like having a family or buying a house.
For others who are, perhaps, in other states of Australia or in an LGA of concern, lockdown is ongoing. Where this is the case, it's important to keep listening to your local health authorities so that you have the most up-to-date advice to hand.
Finding inspiration
Where will you find inspiration? There are lots of places but here are some of the popular ones which will help you source ideas and images for your dream wedding:
♥ Facebook ~ especially bridal groups. Also, check out: https://www.facebook.com/lindycookecivilcelebrant/ I post twice a day and regularly feature other businesses which are connected to the wedding industry. It's a great place to start looking for inspiration.
♥ Instagram ~ make sure to search for keywords. Also, check out: https://www.instagram.com/lindycookecelebrant/
♥ Pinterest ~ think of anything associated with weddings and there's bound to be a board devoted to it. Also, check out: https://www.pinterest.com.au/lindycooke5/lindy-cooke-celebrant/
♥ Bridal magazines ~ especially ones that relate to your general area as they will feature suppliers local to you.
♥ YouTube ~ e.g. wedding songs, wedding dresses, ceremony rituals.
♥ Google ~ e.g. wedding vows, poems and anything else wedding-related.
♥ Create a journal where you can keep notes, lists and pictures. It will be a great reference tool in the lead up to your big day.
Over time, you should be able to see a pattern which will enable you to really focus on the things you love, whether it be a colour palette, trend or theme. Any or all these things will give you the foundation for planning your wedding day and will make it so much easier to build on from there.
The important thing is to not lose heart. While decisions aren't set in cement, planning for your wedding during lockdown will keep the dream alive and help you to keep focused on your future lives together.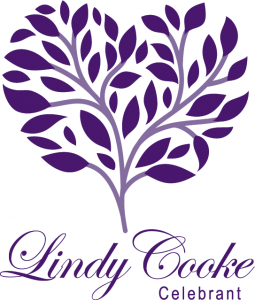 31/08/2021
085 ~ © Lindy Cooke Celebrant