The layout and size of your venue may determine your reception seating plans for family and friends but it's worth bearing in mind that you do have options. Your venue co-ordinator should be able to provide you with several floor plans so that you can choose the one that suits you best and which can accommodate your guests as well as other things such as a dance floor, band/DJ, cake station or lolly buffet etc.
♥  Round Tables
Round tables to seat, say, 8-10 people, are great for getting everyone chatting. Your guests will have good eye contact with the others at the same table and be able to have conversations with a variety of people. Round tables do, however, have the disadvantage of taking up more space than rectangular tables so you do need sufficient space in the room to be able to choose them for your reception.
♥  Rectangular Tables
Rectangular tables to seat, say 10+, allow your guests to talk with the people next to and opposite them but it is difficult to maintain a conversation of any length with guests who are seated further away than this, particularly if the noise level is raised. Rectangular tables do, however, have the advantage of allowing people (guests or venue staff such as waiters) to move freely between tables without having to skirt around each one.
They also look fabulous when there is a huge crowd and they are positioned end-to-end. So, if you're planning an outdoor reception on, say, private property, a number of long rows would look fabulous in a straight line or even snaking along in a curve.
♥  Mix of Sizes
An alternative is to have a mix of table shapes and sizes. This option works really well if you have groups of varying size and the room shape will accommodate it. The fact that you have mixed it up a bit makes things interesting so don't baulk from this idea. Once the linen, cutlery and any decorations are in place, the tables will all look as though they're part of the plan and will link together beautifully.
♥  Moving Seats
Of course, you could also ask each alternate guest at every table (except the bridal table!) to move a couple of seats to the left (or right) between courses. This ensures that everyone mixes and no-one feels isolated.
♥  Table Allocation
If you don't feel you want to pin guests down to a particular seat, you may find it useful to allocate them with a table number and then let them choose who they sit next to. This allows people the safety of knowing they're "allocated" a seat at a particular table without locking them into sitting next to someone they perhaps don't know so well.
♥  Seating Charts
There are endless ideas which you can use for your seating chart which reflect your style and the theme of your wedding. If you position your seating chart near the entrance to your reception, it will allow your guests the opportunity of knowing where you have seated them as soon as they walk in the door.
Some ideas include:
*  a large frame resting on an easel ~ using a separate sheet of paper for each table, print individual guest names under the table number they have been allocated and position the individual sheets inside the frame.
*  a vintage casement window with several rows of cord strung across ~ using individual cards for each table number, list the guest names for each table on the relevant card and then peg each card to the cord.
*  an elegant mirror or perhaps a glass door frame ~ hand write individual guest names under the table number they have been allocated.
*  photo frames of varying shapes and sizes ~ using a separate frame for each table number, print the guest names for each table on paper or card, place this inside the relevant frame and then group the frames together on a side table.
*  bonbonniere such as small potted plants, herbs, chocolates etc. ~ print individual guest names and the table they are allocated to onto cards and attach with ribbon to each bonbonniere.
If possible, leave finalising your reception seating plans until a week or two before your wedding after all your guests have replied to your invitation. This will allow for some flexibility if there are any last-minute changes to the guest list.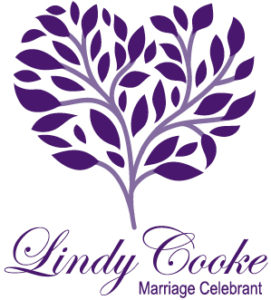 © Lindy Cooke Celebrant
019 – 31/07/2015