The decision to include a special ritual in your ceremony is a completely personal one. Your ceremony can be simple and beautiful without adding anything extra to it; however, if you're thinking of including a ritual …
Here are some things to consider:
♥  Is there a significance to one of the rituals which has special meaning to you?
♥  Would you like to include a ritual to symbolise your love for someone who perhaps is no longer with you?
♥  Do you want to have something as a keepsake after the ceremony is over?
♥  Would you like to include other family members and/or guests in part of your ceremony?
♥  How can you make your ceremony personal but still include something unique for your guests to witness?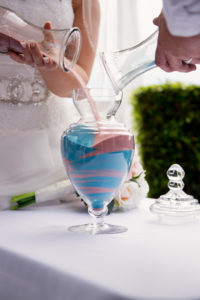 There are many different rituals which you can choose to incorporate into your ceremony. Each will have a symbolic effect and some will be quite powerful when you consider the reason you and your guests are gathered together. When accompanied by the appropriate wording or a piece of verse, they add a unique significance to your ceremony.
Some rituals specifically lend themselves to certain celebrations although they are not limited to these.
 ♥ Weddings, Renewal of Vows or Commitment Ceremonies
When considering these ceremonies, a couple could choose, for instance, to have a handfasting, hand blessing, love lock, rose, sand, lovers' knot, stone, candle, unity bowl, warming of the rings or wine ceremony.
 ♥ Naming Day Ceremony
Other rituals are particularly poignant when incorporated into a naming day ceremony. A butterfly or balloon release, wish box, sand or unity candle ceremony would all be beautiful additions as they add a visual element to your celebration or you could choose to have a tree planting ceremony to represent the development your child will have through to adulthood.
♥ Funerals and Scattering of the Ashes
These occasions allow for other rituals such as a candle ceremony or a dove release which symbolises the passing of the spirit. Other alternatives are to have a tree planting or a singing/prayer bowl ceremony which is particularly spiritual. These ceremonies allow those present time to reflect and remember their loved one.
♥ Life Celebrations
Apart from including one of the rituals mentioned above in your life celebration, for example the birth of a new business or your retirement from the workforce, you could also include an acknowledgement of country as part of your celebration where you recognise the traditional custodians of the region and celebrate their culture.
As well as adding a unique element to the ceremony itself, some rituals allow you to retain something as a keepsake from the day. A sand or unity bowl ceremony (which represent the union between a couple or a couple and their children), a wish box ceremony (where your guests place their written wishes into a decorative box) or a love lock ceremony (which symbolises your enduring love for each other) are just some examples of the tangible reminders you will be left with of your promises and hopes for the future.
~     ~     ~
As your celebrant, I'm happy to elaborate on any of the above rituals and, if you wish, incorporate your choice of ritual into your ceremony. I have 28 options to choose from but am also open to any other ideas you may have. Each ceremony is unique and symbolic. It may be a declaration of love – for a husband or wife, for a child, for a family member who is no longer with you or for a family pet; or perhaps it's a promise of what is to come – the birth of a new business, a retirement from the workforce, the launching of a boat or a house blessing.
So, whether you choose to include a ritual in your ceremony or not, then that's the right decision for you. The important thing is that your ceremony reflects your beliefs and wishes and, in the case of a wedding, is also legal.
Image supplied by:
Richard Windeyer Photography, //www.richardwindeyer.com.au/
002 – 01/04/2014