What's involved in translating wedding documents?
Don't rely on guesswork when it comes to translating wedding documents. When a party to a marriage produces a document (such as a birth certificate) in a language other than English, the celebrant should ask the couple to seek an official NAATI certified translation of the document.  This applies even if the celebrant can read and write in that language. NAATI is the National Accreditation Authority for Translators and Interpreters.
Not all bilingual or multilingual celebrants will be able to authoritatively translate documents. For this reason an independent person, preferably one that is NAATI accredited at Level 3 or higher, should be engaged to take on this role. An online directory of certified translators and interpreters can be found by searching here.
While the Marriage Regulations do not require translations to be provided by an accredited translator, where this happens there is far less chance for this important role to be compromised. The only exception to this is where a person consenting to a minor's marriage gives consent that is not in English. In this situation, the services of an accredited translator must be used.
Marriage documents form part of a chain of documents a person will use over the course of their life to establish their identity and obtain identity documents. An accredited translation will provide an audit trail of amendments to a person's record and preserve their name in full. This is especially relevant where documents contain non-alphabetic characters.
After the marriage
Subsection 50(4) of the Marriage Act requires the celebrant to forward specific documents to Births Deaths & Marriages in the state or territory in which the marriage was solemnised. These include the official certificate of marriage and the NOIM as well as any supporting documents such as official translations of documents.
Further information on this subject can be found at section 4.16 of The Guidelines on the Marriage Act 1961.
Evidence of a foreign marriage
A marriage certificate, issued by a competent overseas authority, is evidence in Australia of the validity of the marriage. The parties are therefore precluded from re-marrying in Australia (unless they have subsequently divorced.)
Note: A party to an overseas marriage may not be able to rely on their marriage certificate to have an Australian driver licence/passport issued in their married name. In this event, the party may decide to undergo an official Change of Name in Australia to reflect their married name.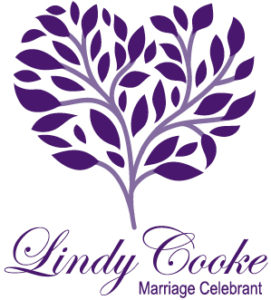 062 ~ 31/05/2019
© Lindy Cooke Celebrant