When you consider how much couples can spend in the lead up to their marriage, many brides are asking themselves the question:  "What can I do with my wedding items after the big day?" Here are just a few ideas:
Sell
There will always be other couples looking for items that may suit their theme or budget, so definitely consider this as a possible option.
If you have joined one or more bridal Facebook pages, Gumtree or Buy, Swap & Sell pages in your local area, you should do well selling miscellaneous or leftover wedding items decorations, bonbonniere etc.
There are some pages such as https://www.stillwhite.com.au/ specifically designed for the sale of pre-loved wedding gowns so it's worth looking at those too.
You might also consider holding a garage sale at your home and inviting a few friends to join you with sale items of their own.
Connect with wedding suppliers
If you make direct contact with wedding suppliers in your local area, some could be interested in an individual item or even a bulk purchase of some of your items.
Re-purpose
Some of your items may be able to be re-purposed in your home after your wedding day e.g. a large mirror, photo frames or one or more ice buckets and stands could find a new home with you, or perhaps some potted plants or a wedding arbour could find their way into your garden.
Keepsakes
Certain items can be preserved forever by specialist companies. Your wedding bouquet, for example, can be framed (perhaps with a boutonniere and Certificate of Marriage), or individual petals, stems and leaves can be preserved in such items as a bracelet, ring, pendant, flower orb or paper weight. Here are some links to suppliers who can help to preserve your memories:
Flowers Forever ~ http://www.flowersforever.com.au/
Treasured Flowers ~ https://treasuredflowers.com.au/
Blooming Keepsakes ~ https://www.bloomingkeepsakes.com.au/
Embedded Blooms ~ https://www.embeddedblooms.com/
Re-gifting
You may like to donate your wedding dress to one of the organisations which design beautiful gowns for  angel babies to wear. A gift like this gives a huge amount of comfort to the bereaved parents.
Although deeply attached to the memories I had of my wedding day, after many years of my beautiful gown being boxed away, I gifted it to an Australian Angel Babies organisation. They make beautiful funereal clothing for infants who were with their families for too short a time.
Give to another bride or to charity
If spare time is an issue for you and you like the idea of paying it forward, you might like to consider giving away some of your items to a friend or someone you know who is going to be a bride or to a charity op shop. There are so many expenses for every bride to consider so this option is likely to give you a "feel good" feeling.
Keep
If you can't bear the idea of parting with your wedding gown, you may like to have it professionally dry cleaned and boxed and then keep it for someone special in your family to potentially wear at some future date.
Trash the dress
Some brides choose to have a "trash the dress" photo shoot after their big day which can result in some amazing new photo opportunities. Consider locations near the ocean or you could perhaps combine the elements of rain, mud and a 4WD. The sky's the limit with this one!
Re-use
If you love to socialise, why not throw another party, perhaps to celebrate your 1st anniversary, and re-use lots of your wedding items then?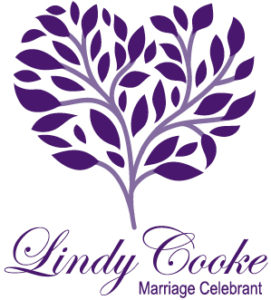 041 ~ 27/05/2017
© Lindy Cooke Celebrant