When I'm asked "What is my passion?" two things immediately spring to mind. The first is my family. They ground me, encourage me, support me and love me. And the second? Well, that's the career path I chose to take back in 2013. It represents a myriad of opportunities for me to connect with others and to design and deliver a ceremony that is authentic to them.
What do I love?
Being a storyteller is one of the things I love most about being a Celebrant. For me, it's all about the details. Some are insignificant on their own but, when you collect all the pieces and, like a mosaic, place them in a special order, you do justice to the person whose story you are telling. Of course, you have to be a good listener too in order to really reflect each person who comes into your life so that you tell their story with truth and meaning.
I love the proud moments, the soulful experiences and the joy and, in expressing these emotions, set out to capture a mood in such a way that it's authentic.
For me, the story I write needs to "sing". There has to be a beginning, a middle and an end. It needs to take the listener on a journey so that, for a period of time, they are taken to another place as onlookers, or perhaps as part of the story itself.
Every ceremony I design is unique. I always say:  "The more you feel able to share from the heart, the better able I'll be to reflect you as a couple." The important thing is to connect and we can do this in so many ways – via an initial and subsequent meeting, through the sharing of information via emails, Facebook, phone or text or, if you live in another state or perhaps overseas, by Skyping at a time to suit you.
How will you feel?
There's an old saying:  "People will forget what you said, but they'll never forget how you made them feel." Over the years, I've gathered many, many testimonials from people I've come into contact with as a celebrant. If you'd like to read some of their comments to get a good idea about the care I take with every ceremony and, more importantly, to see how people felt when they entrusted their ceremony to me, please click here: http://www.lindycookecelebrant.com.au/reviews-2/
What's the next step?
If you're looking for a Celebrant who will really listen to you and design your ceremony from the heart, please feel free to get in touch. If I have your date available, I would love to chat with you! Our first meeting is obligation free.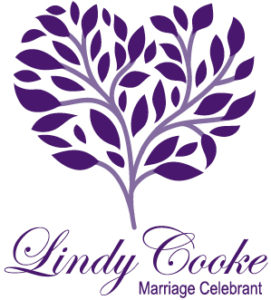 042 ~ 30/06/2017
© Lindy Cooke Celebrant