When should I book my celebrant?
In the lead up to any wedding, there will almost always be a range of suppliers to contact and arrangements to be made. Everything from your venue, photographer, wedding attire, cake maker, florist, decorator, music and transport options right down to distributing your invitations. But … when you consider that there is one person essential to any wedding (other than the couple and their two witnesses), many question "when is it too early to book my celebrant?"
My answer to this question is "soon after you have set your date." The reason for this is that, unlike a cake maker for instance, who can bake and deliver several cakes for a number of weddings on the same day, perhaps all scheduled for 3pm, a celebrant can only be in the one place at the one time. So, once booked, that particular time slot with, say, a couple of hours either side, is unavailable for anyone else.
Popular dates in wedding season naturally book out fast. Add to that bookings for other ceremonies that they may take in advance such as Naming Days, Renewal of Vows and Commitment Ceremonies, and timing becomes even more of an issue.
The first steps
In Australia, couples must lodge a Notice of Intended Marriage from 1 month and up to 18 months before they are able to marry unless they are granted what's called a shortening of time. This only occurs in very limited circumstances (refer my earlier blog post on this topic.) While the vast majority of couples make contact within this 18 month period, some who are keen to lock in their preferred supplier will get in touch outside this time frame. If this occurs, I am happy to accept a booking fee to hold your date/time and, once we're within the 18 month period, catch up to complete the initial paperwork.
At our first meeting, I'll step you through the legal elements, discuss a timeline in the lead up to your big day and provide you with a resource folder containing useful information and ideas. From there, we'll make arrangements to catch up again closer to your wedding day so that everything we plan is fresh and exciting and not something you've mulled over for a long period.
I would say the 3 key things to do early are to book (i) your celebrant; (ii) your venue; and (iii) your photographer. Once you have the "who" and the "where" in place, you can confidently move onto all the other areas essential to your big day.
What's next?
One of the things I provide in my resource folder is a wedding checklist. This is broken down into time periods:
As soon as possible after your engagement
Two months ahead
One month ahead
One to two weeks ahead
On your return from your honeymoon
Of course, everyone's vision for their wedding day is different, so this checklist is by no means definitive; rather it's there for you to read over to see if there's something you haven't thought about yet. The key to ticking things off your list is to do a little as early and as often as you are able to. Accept help from a trusted few if it's becoming overwhelming and you'll definitely lessen the amount of jobs that fall on your shoulders. The plan is to reach the final weeks leading up to your wedding day knowing that everything has been arranged, checked and double-checked.
A big part of what I do as a celebrant is to schedule dates in my calendar to check in with each of my couples. This is so that things don't stall and you're able to step through any decision-making without a last minute panic. While the prospect of organising everything may seem daunting in the beginning, like anything, if you make a list and tick off items on a regular basis, you'll see progress early on and, in most cases, really enjoy this exciting time in your life.
Making it happen
Helping to make someone's big day as stress-free as possible is important to me. I truly believe that your ceremony sets the tone for your wedding day and the celebrations to follow. If you'd like to chat about your wedding plans to see if I'm the celebrant for you, please feel free to get in touch with your date so I can check my availability. If I don't have a conflicting booking, I'll be happy to send you details on my wedding packages and design a beautiful ceremony which reflects your unique love story. Here's the link to all my contact details.
Let's do this together and make memories that will last you a lifetime!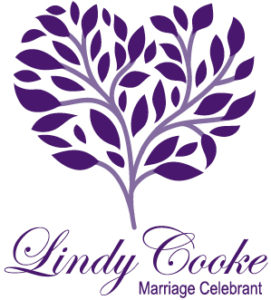 067 ~ 31/10/2019
© Lindy Cooke Celebrant