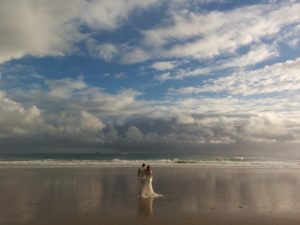 Living on the Northern Rivers of NSW, I am often booked for ceremonies on the beach. Some of my favourites include Byron Bay, Lennox Head, Ballina, Brunswick Heads, Yamba and Evans Head. Here are my top beach wedding ideas for a fabulous day:
♥ 

Timing

Choose wisely the time of year or at least the time of day for your ceremony. You, your family and friends won't want to be standing on hot sand in the glaring sun for an extended period. While most wedding ceremonies take place in the mid afternoon, you could choose any time for yours. Perhaps a sunrise wedding (like the one pictured here on Main Beach Byron Bay) or an early morning or sunset wedding would be a beautiful option. From there, you could all go on to enjoy a delicious wedding breakfast, brunch or late dinner.
♥

Visit various locations

If possible, visit various locations before deciding on your venue, rather than choosing the one which appears to have the best view for photographs. Your guests will probably get hot and bothered quite quickly in their beautiful clothes if there is no shade available under which to gather. Others things to consider are stairs, long stretches of sandy beach, availability of parking, dehydration and heatstroke.
♥

Check the tides

Always check the tides at your ceremony time. You'll need to know that everyone will be able to access the ceremony location on foot or by car, and exit it without getting cut off.
♥ 

Age & physical ability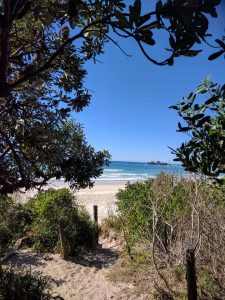 Take into account the age and physical ability of your guests. If young children are present, they will need someone watching them at all times. This is particularly important if your ceremony is near the water or up high on a headland. Also, that quiet little cove you love may not work so well for the elderly. Consider whether your ceremony may be better positioned nearer to the end of the path leading onto the beach.
♥ 

All-terrain beach wheelchair

If there is someone who is disabled or elderly, consider hiring an all-terrain beach wheelchair for them. You can hire one for FREE in my local area from the Goonellabah Sports & Aquatic Centre (GSAC.) It requires an upfront fee, refundable in full when the chair is returned in good order. Here's the link to take you to further information on booking this option.
♥

Water

Provide bottled water for your guests at your ceremony location. When you consider the time spent before, during and after the ceremony, family and friends will often be on the beach at the hottest part of the day for 1-1/2 hours before moving to the reception space.
♥ 

Aisle runner / mat

If you are employing the services of a decorator, enquire if an aisle runner is available and/or a mat. This will stop you getting that sinking feeling in the ceremony location. If the sand is hot, your feet will appreciate this too!
♥ 

Umbrellas

Decorators will usually have a supply of umbrellas available in case of rain. These work equally as well for shade too. Arranging for them to supply a basket of these for guests to use is another thoughtful option.
♥ 

Footwear

You and your bridesmaids may also like to consider wearing flat sandals, pretty thongs with bling, bare feet or barefoot sandals on the sand. After all, a beach wedding is likely to be more relaxed and casual. You may like to consider providing a plastic tub where guests can store their shoes during the ceremony too.
♥ 

Wind

Keep in mind that it is not only rain, but wind, that can affect your wedding day. Having spent several hours with your hairdresser styling your hair, do you really want to end up with a windswept look? Perhaps a different hair style would work better? Consider, too, the direction of the wind. If the bride is wearing a veil or has long hair, it makes sense for her to stand where her veil and hair will blow in the same direction as the wind.

If your celebrant is using a PA, they will do their best to position it so that the sound coming from it is not carried away by the wind. Check that they also have a wind sock to attach to their microphone too so that audio is not affected. Keep in mind, if the wind is whipping up the sand, it may not be possible to use the PA at all.
♥ 

Symbolic rituals

If you plan to incorporate a symbolic ritual into your ceremony, you'll need to consider the prevailing weather conditions on the day too. Even with a tall hurricane vase, it would be very difficult, for example, to include a candle lighting ceremony on a windy day.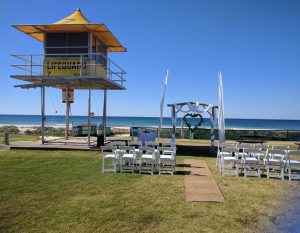 ♥

Check the weather forecast

Finally, check the weather forecast and be prepared to use your backup option if rain, thunderstorms or high winds are predicted. Your wedding attire, hair, makeup etc. will definitely not benefit from weather like this. If raining, it's likely to blow over and you'll still be able to get some amazing outdoor photos after any inclement weather has passed.

~     ~     ~

If you employ my top beach wedding tips, you'll be well on the way to having a fabulous beach wedding ceremony!

Further info on RAINY DAY WEDDING TIPS can be found here.

Plus, here are some HOT WEDDING DAY IDEAS too.

071 ~ 29/02/2020

© Lindy Cooke Celebrant