It's all about choices
Not everyone wants to have a lavish wedding or even a traditional white wedding. This may be due to personal preference, budget considerations, time constraints or a desire to escape the somewhat daunting task of arranging an event on a large scale. So, here's a guide to everything you need to know about micro weddings.
Choosing to have a small guest list
Anything micro, by definition, is something on a small scale. An elopement is where a couple choose to marry in a private and quite intimate ceremony. A true elopement will only have 3 other people in attendance … the celebrant and the 2 legally required witnesses.
My definition of a micro wedding, by comparison, will have a guest list of a dozen or so people. This means that you choose only your closest family and friends to witness your wedding ceremony (and, potentially, be part of the celebrations afterwards.) If you're not looking to have a lavish party, this is a great option.
Choosing to only include what's important to you
A micro wedding provides you with the opportunity to consider adding only those things which you consider important.
If, for instance, no-one will see you arrive, do you need to arrange a chauffeur-driven limousine, vintage or muscle car for your wedding transport?
You definitely won't need a cake to feed 100+ guests but, something smaller with fabulous in-season blooms adorning it, will look amazing! You could even opt for cupcakes or a donut tower.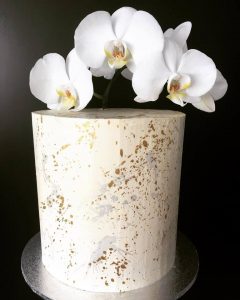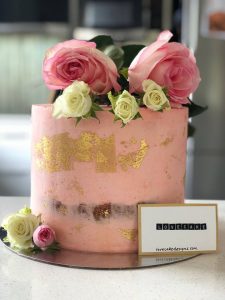 Photo credit:  The stunning cakes pictured here are the work of Lovecake Designs.
Lovecakedesigns.com service the Lismore ~ Brisbane ~ Gold Coast ~ Byron Bay areas.
Contact Emma on 0428 941-091 or via www.facebook.com/lovecakedesignsnsw
Consider, too, your wedding attire. If you've always dreamed of wearing a long white wedding gown, then you won't want to compromise on that. Importantly, there's no reason why you should! You could consider wearing another style of dress though, perhaps in another colour, which would look fabulous worn at parties or when you're a guest at someone else's wedding in the future.
Choosing the time of day for your celebration
As your venue and food/alcohol can form a big part of your expenses, it's worthwhile considering the time of day as a key element for your celebrations. If, for example, you choose to marry at sunrise, you could plan a delicious wedding breakfast afterwards at a local restaurant. Or, you might choose to marry (like I did) in the early afternoon and follow your ceremony with drinks and canapes rather than a sit-down 3 course meal. Perhaps something informal like sharing grazing platters is more your thing. Whatever you decide, there will be economies of scale in terms of your venue and the food and drink consumed.
Choosing who will officiate your ceremony
If you choose an authorised marriage celebrant, one who really listens to your ceremony vision, there will be a lot of flexibility as to how it can all unfold on the day. A possible alternative is to marry at a local Court House or at the offices of Births Deaths & Marriages. Keep in mind that you are fairly restricted in terms of choices if you decide to go this way. You'll find lots of useful info in my earlier blog post on the topic of Celebrant vs Registry Office by clicking here.
Choosing to have a surprise wedding
Surprise weddings can be a great way to lower the stress levels and keep the planning and budget in check. I'm great at keeping secrets so, if this idea appeals to you, let's talk!
Choosing to make memories your way
The key is to remember that your wedding day is about making memories with the person you love. It really shouldn't be about satisfying tradition or someone else's ideas about what a wedding should be. It's 24 precious hours in your life and they should be memorable for all the right reasons. If the old adage "good things come in small packages" resonates with you, a micro wedding could be the perfect way to say "I do!"
~     ~     ~
Lastly, if you'd like to read further, body+soul have written a handy article on micro weddings which will give you some further info to add to the mix. Click here to have a read.
~     ~     ~
I can design a beautiful wedding ceremony for you, no matter the number of guests, that is unique and memorable. If you'd like further information on this, please feel free to get in touch.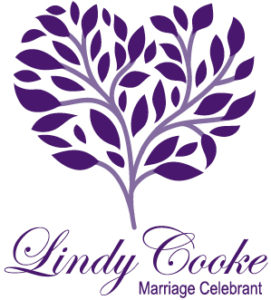 066 ~ 29/09/2019
© Lindy Cooke Celebrant