How to plan a wedding when time is a factor
Minimum notice
In Australia, the minimum notice required between lodging a Notice of Intended Marriage (NOIM) with an authorised marriage celebrant and a wedding occurring is 1 month. For the most part, this period of time is clear cut e.g. if you lodge your NOIM on the 23rd of one month, the first day you would be able to marry is the 23rd of the following month. When you plan a wedding, the actual number of days in any particular month is irrelevant.
The only exception to this occurs when there is no corresponding date in the following month e.g. if you lodge your NOIM, for example, on 29th January (when it is not a leap year), 30th January or 31st January, the first day you would be able to marry is 1st March as there is no 29th, 30th or 31st February in the calendar.
Another example would be if you lodge your NOIM on 31st May, the first day you would be able to marry is 1st July as there is no 31st June.
Shortening of time
The only time you are able to marry with less than 1 month's notice is if you qualify for one of the 5 reasons for a shortening of time. You'll find further information on this by heading over to my earlier blog post on this topic. Here's the link: https://lindycookecelebrant.com.au/shortening-time-marry/
The planning itself
Whether you have made bookings with any other suppliers necessary for your wedding or not, once you have lodged your NOIM with your chosen celebrant, you'll be able to lock in everything you need for your wedding. These include things like your venue, permits through your local Council (if you plan to marry on the beach, in a park or on public ground), catering, dress, hair & makeup, flowers, cake etc.
If you have a vision of what you'd like and are prepared to make quick decisions, everything can be pulled together, literally in a matter of days. This is where your celebrant can be invaluable as they'll be able to guide you to lots of trusted, local suppliers that they've worked with previously. Your celebrant is responsible for taking care of all the legal elements and designing a ceremony that reflects your wishes.
Other options
You also have the option of an:
Elopement
This involves only 5 people … you, your partner, your 2 witnesses (over the age of 18) and your celebrant. These are very intimate gatherings which allow you to marry in private and then, when you're ready, let family and friends know you're married!
Micro Wedding
This is a celebration on a smaller scale which includes up to around 20 guests. Keeping numbers to a minimum will reduce the cost and amount of work required for many elements in your wedding planning. You'll find further info on this topic here.
Legals Only Wedding
This is often chosen by couples who have been married before or those who don't wish to have all the "bells and whistles". It can be as simple as you wish and still give you beautiful memories of your special day.
Pop-up weddings
Another option is to connect with a local pop-up wedding supplier such as I Do Pop Up Weddings who already have arrangements in place with a group of other suppliers. This group will offer you the services of a celebrant, venue and various other options such as photographer, decorator etc. The price you'll be asked to pay will reflect the fact that everything is streamlined and will be taken care of by them on the day. Keep in mind, though, that you will be restricted with regard to choices.
~     ~     ~
If you'd like any further information on how I can help you plan for your wedding day, please feel free to get in touch.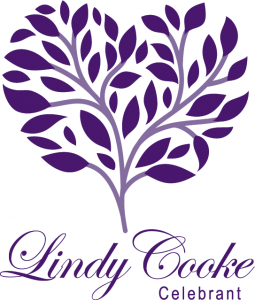 31/03/2021
081 ~ © Lindy Cooke Celebrant