One of the questions I'm often asked by couples is "what options are there for including children in your wedding day?"
Of course, your wedding day should centre around your love and commitment. When children play an important role in your life, though, many couples wish to involve them as part of their big day.
Your children in your wedding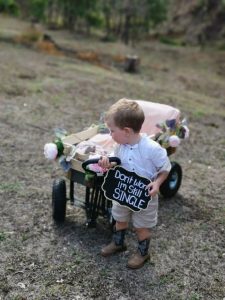 What you choose to do will depend, in part, on the age of your children.
If you have a baby, you may like to walk down the aisle holding them in your arms. Then, either you or your partner could hold them during the ceremony (except for the ring exchange) or pass them to a grandparent to look after during the ceremony.
If they're young girls, one or more could either walk with you or precede you down the aisle, scattering flower petals along the way. An alternative would be for them to wear a flower crown or wrist corsage, or hold a floral hoop or wand with trailing ribbons.
If they're young boys, they could walk down the aisle carrying a cute sign saying something like "Here she comes Daddy!" Or, they could be your ring bearers (either being entrusted to deliver the real rings to the Best Man, or carrying fake rings tied to a ring cushion.)
Alternatively, your children could be waiting at the end of the aisle for you. They could then stand nearby throughout the ceremony or settle onto a nearby rug with some soft toys, a favourite picture book or some finger food that won't stain their clothes.
If they're older, they could take a more active role in the ceremony either by:

taking part in a ritual such as a handfasting, puzzle ceremony or sand ceremony (feel free to ask me for further details on these rituals); or
taking on a special role. This could include being Best Man, Maid of Honour, Groomsman or (Junior) Bridesmaid. They could also act as one of your witnesses, be responsible for looking after your ceremony music or one or more could step forward to share in the reading of a special poem.

You may like to present your child or stepchild with a special gift such as a promise ring or charm bracelet during the ceremony.
Particularly where one party already has a child, the other party may like to make some special promises to their partner's child during the ceremony.
Your celebrant can refer to your children, by name, during the ceremony and perhaps mention their personalities or some of the special attributes that you love about each one.
Other people's children in your wedding
It's not unusual for couples to invite the children of their siblings or close friends to take part in the ceremony. They usually take on the role of flower girl or ring bearer, although the roles are not limited to these.
Communicating your wishes
Some couples choose not to invite children to their wedding ceremony (perhaps with the exception of babies), some will invite them to the wedding ceremony only, and some to both the wedding and reception. It's important to make your wishes clear on your invitations so that your guests can make an informed decision as to whether they will be able to attend or not.
Child care options
If you invite guests from far afield, clearly they won't have their own network of babysitters on hand. In these circumstances, they may choose to leave their children with someone trusted like a grandparent and enjoy a couple of days away on their own. You may, however, opt for doing a little research beforehand and advise guests that you have hired a trained child care worker to look after the children in a designated area during the reception. While it is an extra expense, it does solve the problem of entertaining the children and allows you and your guests to enjoy your wedding without distractions.
Keeping children safe at weddings
If children will be present at the wedding and reception, it's important to remember that their safety is paramount. Many weddings are held on the beach, on headlands etc. where water or the road is a magnet and so, in the absence of any trained child care workers, you need to feel comfortable that their parents will be supervising at all times.
Child-friendly food / activities
Offering a couple of child friendly menu options will no doubt be appreciated. Consider setting up a separate table for the children to sit at and provide some options to keep them occupied at the reception e.g. activity books, pencils, a craft table etc.
Entertainment
Depending on the budget, you may like to consider entertainment such as a jumping castle, face painting or some kids only photo booth time (perhaps while the speeches are happening.)
Timing
Choosing a late morning wedding which leads onto lunch is likely to mean that the children are fresh and happy and can safely run around after the ceremony and burn off excess energy.
Special needs
Always remember to check if there are any special needs that you should consider with your planning. Your guests will be out of their comfort zones so remember to take into account age (both young and old) and any other special requirements e.g. high chairs, wheelchair accessibility etc.
Bonbonniere
Many couples provide bonbonniere for their guests. You may like to consider something age-appropriate for your younger guests such as temporary tattoos, a cupcake or donut.
Micro wedding
If the prospect of having a large wedding and offending someone by not including their children bothers you, why not consider a micro wedding? You could elope, or have only your immediate family attend your ceremony and then move onto your reception and announce the good news to all your other guests. Think… grazing tables in a park, gourmet picnic baskets, high tea, bring a plate to share etc.
~     ~     ~
Nothing gets people more riled up than feeling their needs haven't been considered and this feeling is heightened if it involves their children. The important thing is to not stress about whether to include or exclude children from your wedding day. After discussing options with your partner, the next step is to communicate your decision to your guests and then have an amazing day! If you are able to "go with the flow", you will enjoy your day so much more!
Finally, here's another take on this topic.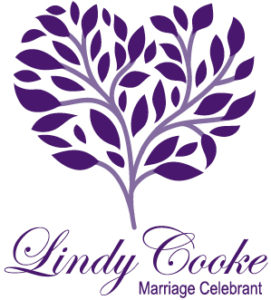 31/03/2020
072 ~ © Lindy Cooke Celebrant