What are your options?
How you and your partner decide to make an entrance on your wedding day depends on a number of factors. These include personal preference, the number of guests, whether you have a bridal party or not, and the venue itself.
Tradition
Traditionally, one half of the partnership stands at the end of the aisle. The other half arrives a little later, to much fanfare, and then walks down towards their partner. Family and friends are usually seated (or standing) in rows on either side of a centre aisle.
Other configurations
You could also place the seats in either a spiral or two half semi-circles. Where there are no groomsmen or bridesmaids to consider, you could wend your way between the rows of seats and meet up at the ceremony space in the middle. It's a great opportunity for a sneaky kiss!
Mingling with your guests
Or, why not consider arriving early and meeting somewhere in private? This way, you have an opportunity for some "first look" photos before joining everyone. You'll find further info on planning a "first look" on your wedding day by heading here.
It's all up to you. I'm open to changing things up and doing things a bit differently if that's what you'd like. Feel free to get in touch if you'd like to chat about options.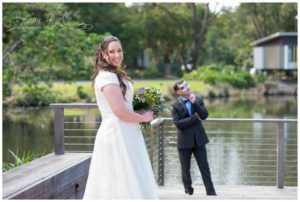 "First look" at the wedding of one of my couples back in 2017. Photo credit: annabarberphotographics.com.au  M: 0431 976-917
The ceremony and the reception
We've all seen those videos where the bridal party dance down the aisle before the ceremony or the reception begins. If you've got the moves and are prepared to practise, practise, deciding to make an entrance this way could be something truly memorable. Having it on video, uploading it to YouTube or your social media are just some of the ways you can share the moment.
It's important to recognise that the one key time to pull out the stops and make an entrance is on your wedding day. After all, you will have everyone's attention and, as they're your invited guests, their good wishes.
~     ~     ~
I can design a beautiful wedding ceremony for you that is unique and memorable. If you'd like further information on this, please feel free to get in touch.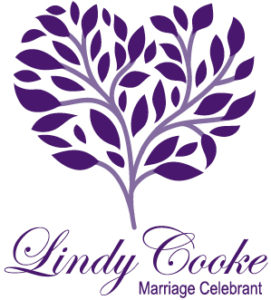 065 ~ 31/08/2019
© Lindy Cooke Celebrant