Presenting your wedding rings
When you think about it, every detail associated with the day you marry your best friend requires careful thought. Here are some ideas for when you are presenting your rings on your wedding day.
♥ Traditionally, the Best Man carries the rings and the celebrant asks him to step forward when it's time to present them. Alternatively, have you thought about:
♥ Not exchanging rings but, rather, having them tattooed on your ring fingers beforehand? If you like this idea, I can write something special about this in your ceremony so that the significance of these tattoos is not lost.
♥ Having a ring bearer bring them forward at the appropriate time … or if your ring bearer is very young, you may prefer to have them bring the rings down on a ring cushion and deliver them to the Best Man at the start of the ceremony.
♥ If you don't have a bridal party, the groom could have them safely in his pocket or you may like to ask one or two family members or close friends to step forward with them when asked.
♥ Or they could be placed in a special ring dish on the signing table and I could collect them just before the ring exchange.
♥ Do you have a fur baby that you'd like to include in your ceremony? I've had someone walk down the aisle at the appropriate time with their gorgeous dog with the rings attached to a scarf tied loosely around his neck.
Whatever you decide, this part of your ceremony has particular significance. The giving and receiving of rings symbolises the promises a couple make to one another on their wedding day. Just like "the kiss" or saying your vows to one another, it's one of the things people most love to witness at a wedding.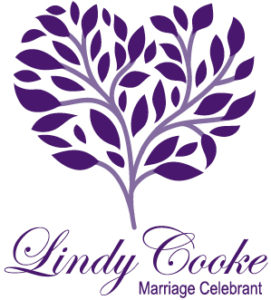 30/06/2020
075 ~ © Lindy Cooke Celebrant