Building a rapport
When you're planning a wedding or other life celebration, keeping in touch with your celebrant and building a rapport with them is key. After all, you're putting your faith in their professionalism, trusting that they'll deliver your vision on the day. After an initial discussion, maintaining contact can involve a number of different things. It may be that you have some exciting news to share (perhaps you've welcomed a new baby into your family) or you may have moved house or accepted a new job.
Other things to consider are whether you've decided to include (or exclude) someone from your bridal party. Perhaps there's been a change to your choice of witnesses, your venue or the time of your ceremony.
Life has a way of moving us down new paths, so don't forget to share anything relevant with your celebrant. If it affects the ceremony they're writing, or where and when they should be at your venue, they will need to know.
I love chatting and corresponding with each of my couples about what's important to them. It allows me gather all the little pieces of information I need to design a beautiful ceremony and to really get a feel for the vibe they're going for. No question is too simple to ask. Just the fact that we can connect, however briefly, helps build the trust and rapport between us. Even a quick comment between us on social media is a great way to stay connected and for couples to collect ideas along the way.
On your wedding day
Then, on your wedding day, I'll arrive early and be there to offer support where needed. I'll also get things ready before the ceremony starts. In this way, you'll know that what we've discussed will unfold the way we planned. This helps make everything flow seamlessly and gives you those precious memories you were hoping for.
How can we connect?
Keeping in touch with me is easy. Here are just a few ways we can connect:
Email: enquiries@lindycookecelebrant.com.au
Call or text my mobile: 0401 941 138
Messenger video chat: It just requires one of us to send, then the other to respond to a message in order to make a video call
Arrange to visit with me in my home office
Skype: As I only log in when I'm making or receiving a call, please ask me for my Skype name so we can arrange a convenient time to chat
LinkedIn: https://www.linkedin.com/in/lindycookecelebrant
Interstate or overseas couples
If you don't live locally, it's even more important that we create a connection. It may not be until the day before or on your wedding day that we meet. These days, almost all the paperwork can be transferred electronically, but scheduling one or more online chats allows me to pick up on all sorts of cues. The written word really is just black and white letters on a page or device, but a video call allows us to connect face-to-face. I believe it really helps to feel comfortable with your celebrant and not have them be a total stranger on the day.
Responding to messages
Keeping in touch is also about replying promptly to messages. I always take care to respond to any messages I'm sent. This way, you have confirmation that I've received your message and have answered any questions you may have. It really is all about good communication and building a great connection. Keep in mind, if you are expecting an email from me and it doesn't appear in your Inbox, it's a good idea to check your Junk folder too. Sometimes, messages from people not in your address book will be re-directed there.
Keeping on track with your celebrant
You may also like to check out an earlier blog post on a related topic. Here's the link to take you there: https://lindycookecelebrant.com.au/keeping-on-track-with-your-celebrant/
*     *     *     *     *
Your wedding day will be one of the most memorable in your life. Whether you choose to have an intimate elopement, a micro wedding with a dozen or so guests, or something on a larger scale, keeping in touch with a celebrant you know and trust will help ensure your day is the success you dreamt it would be.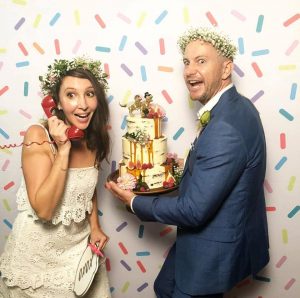 28/11/2020
078 ~ © Lindy Cooke Celebrant