What does someone's use of social media tell you about them?
A lot actually. It's one of the quickest ways to reach a large audience with a message. It's also one of the key ways you can see, at a glance, how motivated a person is to connect with others and how passionate they are about what they do. Things like content, frequency and how, or even whether, they respond are important clues to the person behind each post.
Use of social media in business
In business, there are many ways to connect with current and potential clients but social media cannot be ignored. I don't believe it's necessary to be on all, or even most, of the current social media platforms. Having a business Facebook page, Instagram account and perhaps one or maybe two other social media outlets are great ways to reach out, inform, inspire and motivate. Don't forget … it's always better to do a few select things really well than spread yourself too thin by trying to be all things to all people.
For me, using social media to connect with others is a big part of my marketing strategy. So whether it's photographs from recent weddings, a meme which adds humour to a particular topic, inspirational ideas or my regular blog posts, I always seek to connect in a variety of ways.
The best part is … it's instant and, what starts out with only a few "Likes" or "followers" can reach many, many more over time.
A celebrant's use of social media
So, when choosing the right celebrant to suit your style, as part of your research, I suggest checking out their social media accounts to see if the things they post resonate with you. Other things you could consider are:
♥  reading their reviews;
♥  obtaining feedback via word of mouth;
♥  contacting them to assess their interest in you and, if you contact them in writing, keep in mind how quickly they respond to your queries;
♥  meeting in person to see if you "click".
Once you've chosen your celebrant, "Like" or "follow" them on social media so that you can connect with them more frequently. All the little pieces of information and impressions that you gather over time will add further layers to your knowledge and connection with them. They are, after all, the most pivotal person there on your wedding day (apart from you and your partner, of course!) because, without them, you wouldn't be able to get married!
My social media links
Here are the links to the social media I use most frequently:
facebook.com/lindycookecivilcelebrant
instagram.com/lindycookecelebrant
linkedin.com/in/lindycookecelebrant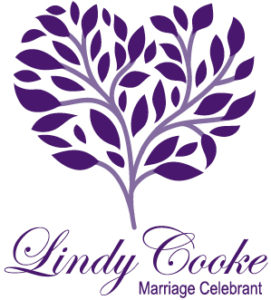 040 – 30/04/2017
© Lindy Cooke Celebrant