Planning for every wedding is different for each couple and will reflect a variety of things including your personal style, location and budget. I offer every couple who books with me access to my resource folder. This contains a wealth of information and lots of ideas which can be incorporated to suit your individual requirements. The folder is available once you have secured your date with a booking fee and you're welcome to hold onto it for as long as you need to, right up to your wedding day. Included in my resources are the following:
A wedding information pack
This spells out, in easy to understand language, the legal elements associated with marrying in Australia.
Sample readings
Including one or perhaps two poems in your ceremony allows you to ask someone to take on a special role during your ceremony. Having someone speak with a different voice also provides an extra layer to your ceremony. Of course, the content can be humorous or in some other way reflect you as a couple. My folder includes 20 poems but I have many more available and am happy to send through further options when requested. Sample poems are updated regularly.
Sample vows
I suggest each couple takes some time to sit down quietly in the lead up their wedding to reflect on the person they are marrying and the promises they would like to make to them. The sample vows I offer can provide inspiration to start the thought process and give you an idea of how much or little you might like to say. Most of my couples choose to go with "secret" vows which means they send through their vows to me before their wedding and then read them to their partner from the vow cards I prepare (or they could choose to repeat each line after me.) This is such a special part of the ceremony and, for that reason, when vow cards are used, they become a lasting memento for each couple after their wedding day.
Song lists
If you need some ideas for ceremony songs, I have three song lists available with lots of options for your processional (walking down the aisle), when you're at the signing table (signing the Certificates of Marriage) and your recessional (walking back down the aisle.) They include originals, covers and instrumentals (without vocals) in many different genres. These lists are updated regularly so that new songs and anything special I discover can be included.
Symbolic rituals
Including a symbolic ritual can add yet another layer to your ceremony. I have over 30 to choose from including a Handfasting, Wine Ceremony, Love Lock Ceremony or Tree Planting. I'm also very happy to include one of your own ideas if you would like to suggest something else. Rituals like these are a wonderful way for the bride and groom, and sometimes others such as their children, or parents if they wish, to be included.
Wedding suppliers
Having worked in the wedding industry since 2013, I have come into contact with many different suppliers including photographers, decorators, florists, venues, cars, videographers, musicians, DJs etc. and am happy to pass on the details of those I would recommend for your big day.
Wedding checklist
Every wedding is different but the checklist I provide covers many of the things that you may like to consider in the lead up to and soon after your wedding day. It starts with some ideas for after you've announced your engagement and moves on to the period 2-1 month before your wedding, then 1-2 weeks before your wedding and from there to after your wedding/return from your honeymoon. Just running your eye over this list could be very helpful as it may reveal one or more key things you had previously not considered.
The Code of Practice
This document must be shown to all prospective couples and details the standard to which all authorised marriage celebrants must adhere.
Change of name information
While not every bride (or groom) will change their name after marriage, it is still very common (usually for the bride) to do so in Australia. In order to change your name legally, you will need to purchase a standard Certificate of Marriage from Births Deaths & Marriages (BDM NSW currently charge $56 for this) and present it to the organisations where you wish to change your name e.g. your bank, Medicare, when updating your driver licence or passport etc.
Note: It is also possible to purchase a commemorative Certificate of Marriage (BDM NSW currently charge $25 for this) from one of the 10 designs available. The purchase of a commemorative Certificate of Marriage is optional but it is worth noting that this certificate cannot be used to prove your identity in order to legally change your name.
For further information on the certificates available in NSW, here's the link to the BDM site:  http://www.bdm.nsw.gov.au/Documents/apply-for-marriage-certificate.pdf
I am happy to order your standard or your standard plus commemorative certificates on your behalf when I register your marriage in NSW. I offer this service for the same price that you would pay if you used the forms provided in my folder and ordered the certificate/s yourself. (Note: As well as completing a form, you would need to have a JP witness 3 sets of your ID before making the application yourself.) You're welcome to chat to me about this, as well as other options if you plan to marry in another State of Australia.
~     ~     ~
The key thing to remember is that I am available via phone, email, Facebook and in person to share my resources with you and answer any queries you may have. I am more than happy to connect you with other celebrants (should I not be available on your date) or other wedding suppliers who are all there to help you have an amazing wedding day!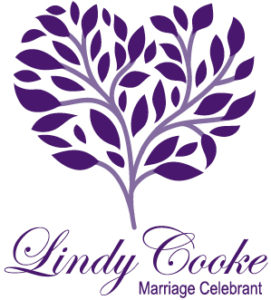 044 ~ 29/10/2017
© Lindy Cooke Celebrant