Arranging a wedding, no matter how simple or lavish it is, requires planning. From the moment you and your partner decide to tie the knot, certain decisions will need to be made. What date? Which venue? How to incorporate my style? How many guests? Sustainable or not? These days, more focus is being paid to ethical wedding ideas so as to make less of an impact on the environment.
Some things to consider are:
♥  Flowers
If you love the idea of fresh flowers, sourcing them from a provider which uses companion planting, rather than pesticides, to create healthy flower stock is a great way of limiting the amount of poisons in the air.
Preserving your bouquet (or at least some of it) will provide an ongoing and beautiful keepsake.
Rather than a sheaf of flowers, choosing a single stem flower like a long-stemmed rose, or something big like a protea or sunflower with trailing ribbons attached, will also lessen the impact on the environment.
Opting for a flower crown which you or someone else has made, rather than a bouquet.
You could also look at alternatives such as fabric, wooden or paper bouquets.
Choosing eco-friendly confetti such as dried flower petals, lavender, or leaves which have been cut into shapes with a heart punch.
Incorporating potted plants such as palm trees to decorate your wedding and reception space.
Using succulents you have cultivated yourself as your bonbonniere.
♥  Stationery
Using recycled paper to produce all your wedding stationery is a beautiful way to re-purpose something that would, otherwise, go to landfill. You can add raw cotton threads, tiny sprigs of flowers, seeds, or impressions from a variety of stamps. Think about:
Save the dates
Invitations
Orders of service
Place cards
Thank you notes
Bonbonniere in the form of paper hearts scattered with flower or herb seeds that can be planted by your guests after your wedding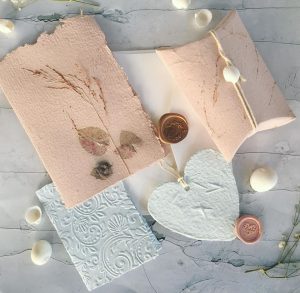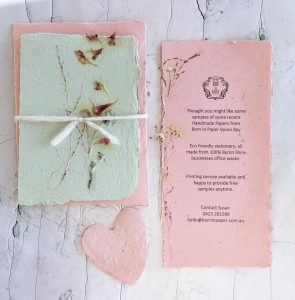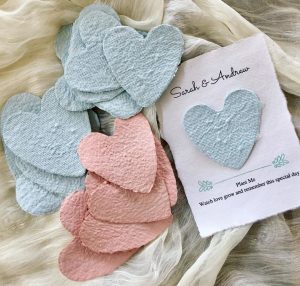 Beautiful stationery like the examples pictured can be sourced from an amazing local business, Born in Paper, which is based in the Byron hinterland. It produces environmentally friendly products, hand-made with love from recycled office paper. Their range includes seeded paper, card or letter writing stock, invitations and cherished hand-bound note books and journals. For further information, contact Susan on 0423 261-588 or email hello@borninpaper.com.au
♥  Transport
Thinking about ways to transport family and friends to/from your wedding venue is another way to reduce your carbon footprint. Holding your reception at the same location is an added bonus and gives you more time, too, for photos in between.
You can arrange one or more pickup locations with a local bus company who will return everyone safely to that location at the end of the evening. It's a great way to get everyone chatting en route!
Consider, too, hiring a limousine or Kombi to transport all the bridal party to the reception in the one vehicle. If you need the contact details for any local companies, please just ask!
In the Northern Rivers area, there's a fabulous company known as Byron Bay Double Decker Bus. This is the home of the "Magic Bus", two vintage double decker buses available for group transport. Imagine arriving in one of these and the amazing photo opportunities it would provide! For further info, head over here.
♥  Rings
It's worth considering whether something sparkly and new is your thing or whether a beautiful vintage ring would hold more sentiment for you. There may be a family heirloom, full of precious memories, that you'd love to have as your engagement ring, or perhaps you'd like to re-use the stones in a new setting.
♥  Hire vs buy
These days, there are unlimited opportunities to hire or buy second hand. Perhaps some of the following are areas you can consider:
Your wedding dress, suits etc.
Your table linen
Decorations including your arbour, welcome sign, easels etc.
Furniture such as bar tables, sofas and comfortable chairs for lounging etc.
♥  Style of wedding
Choosing the style of wedding, reception and honeymoon you'd like to have will play a big part in your decision-making too. Have you thought about:
The time of your wedding. You may like to consider a grazing table or cocktail style finger food, rather than a 3 course sit-down meal using china plates and cutlery which have to be washed after the event.
A picnic style wedding breakfast or lunch with food/drinks presented in jars and displayed on tables or at ground level on pallets. An alternative is to arrange a variety of tasty treats for each guest in recycled cardboard containers (around the size of a cake box.)
An elopement or micro wedding.
Exploring your own country rather than travelling overseas for your honeymoon.
Choosing accommodation that is eco-friendly. There are many resort style options but you could also consider going off grid with no phones or WiFi and just fresh air and countryside. Or perhaps glamping, or a relaxed farm or beach stay appeals to you.
~     ~     ~
As you can see, there are multiple opportunities for using ethical wedding ideas for your special day. You, your guests and the planet will appreciate it!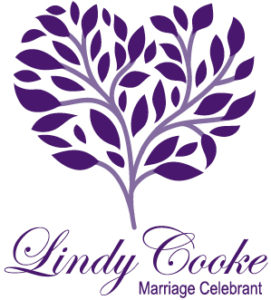 069 ~ 31/12/2019
© Lindy Cooke Celebrant